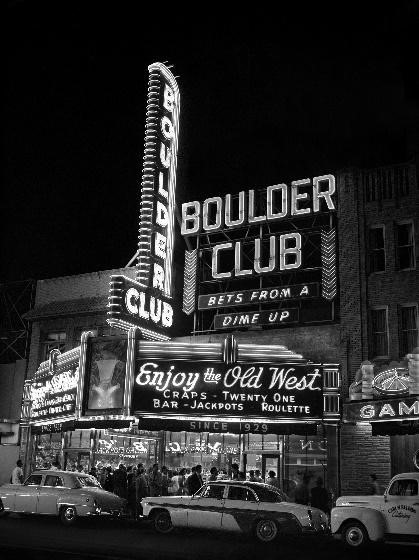 Click Here for Downloadable Photos
YESCO announces its new exhibition, "Lighting Up Las Vegas: YESCO Marks a Glittering Century," will move to the East Las Vegas Library. Currently on display at the Clark County Museum through Monday, August 29 and formerly at the Nevada Humanities Gallery in downtown Las Vegas, this exhibition will open to the public at the East Las Vegas Library on Thursday, September 15. This exhibition is sourced from the LVCVA News Bureau's extensive archive collection and from UNLV's Special Collections. This joint exhibition, organized with the support of the LVCVA's Las Vegas News Bureau and The Neon Museum, examines the history and impact of YESCO in Las Vegas.
The exhibit was originally planned for 2020 to celebrate YESCO's 100th anniversary, which took place that year, but was delayed due to the COVID pandemic. "Lighting Up Las Vegas" follows the intertwined stories of the company, city and technology, as well as the men and women who made it all possible.
Las Vegas and neon are synonymous with each other. When anyone thinks of Las Vegas, their mind's eye instantly conjures images of its dazzling skyline and brilliant lights. YESCO has played a significant role in creating Las Vegas' shining reputation. The company has created countless signs defining the look and feel of Las Vegas. From its early use of neon on Fremont Street in the 1930s, to the Strip "spectaculars" of the 1950s and 1960s, to the cutting-edge technologies of today, YESCO has shaped the image of Las Vegas. Its iconic signs have come to be recognized as works of art, and their significance transcends their function as mere advertisements.
PHOTOS ON DISPLAY INCLUDE:
Boulder Club/Photo 5947:
In 1945, the Boulder Club hired YESCO to redesign its 1933 sign. The new sign, credited as the first "spectacular," combined a tall vertical tower that read "Boulder Club" and "Enjoy the Old West." The sign industry used the term "spectacular" to refer to the largest and brightest signs.
Aladdin/Photo 19038-7:
YESCO and AD-ART competed for the Aladdin sign. YESCO won the bid, and they designed and installed it in 1966. The three-sided marquee featured a modeled genie lamp at the top covered in incandescent bulbs.
Stardust/Photo 7232-3:
In 1958, YESCO's design for the Stardust set a new standard for signage on the Strip. Designed by Kermit Wayne, the sign wrapped the building in neon and featured three-dimensional planets and comets. It was 216 feet long and 27 feet high.
Photo by Milt Palmer/Las Vegas News Bureau.