DISCOVER
YESCO was founded in 1920 by Thomas Young. Our mission is to provide customers with the highest quality service at the greatest possible value. In the early days, Thomas Young innovated by adding "service contracts" to his book of business. YESCO continued to provide service to customers through the years. In the year 2000, Steve Jones (the Division Manager in Los Angeles California) pioneered and implemented an idea to give even more focus to the service business. A model was developed which allowed YESCO to dedicate more resources to that line of business. The effort proved to be successful and has been a key element of YESCO's success since that time. In 2011, YESCO began franchising its unique and proprietary sign and lighting service business. The business model is backed with over 100 years of industry experience. Our progression is demonstrated by our network of successful company-owned locations that operate under the same principles and guidelines.

Today, YESCO's service offices form a unified group capable of delivering quality and dependable sign and lighting service across the United States and Canada. YESCO is dedicated to maintaining the largest network of sign and lighting service locations in North America.
---
From YESCO's humble beginnings in 1920 its growth has been a remarkable story of the American Dream come true. Thomas Young had a love for art. He applied that passion to making signs. At first these were simple signs, but as the science of lighting and sign-making so did Tom's signs. His company, driven by the pioneering spirit he exemplified maintained a leading-edge position in the industry.

YESCO was soon recognized as a leader in the sign industry, earning a reputation for creating the finest signs in the nation. The YESCO family put Las Vegas on the map as far as signs were concerned. YESCO continues to design, build, install, service and maintain spectacular skyline signs and award-winning displays while pressing ahead as a technological leader.
Click here to "Take a Tour Back Through History".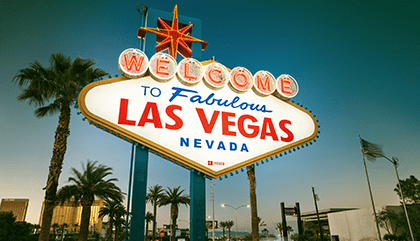 ---
Now under its fourth generation of the Young family's leadership, the company continues its tradition of innovative excellence- always with a focus on best-of-class customer service. Our management team has earned a reputation for well-organized, solutions-oriented, client-centered focused service. Our values-driven philosophy, combined with a longstanding commitment to doing things right, means that all our clients- regardless of the size of their projects- are treated with the integrity and respect they deserve, while benefitting from the resources and support of the entire corporation.

YESCO has approximately 1,000 employees and operates three state-of-the-art manufacturing plants with over 400,000 square feet of plant/office space.  With 36 company locations and 59 franchise locations, YESCO has service operations in 54 states and 4 Canadian provinces. Internationally recognized signs throughout the United States stand today as testaments to YESCO's long history of excellence.
---
YESCO's company-owned locations provide sign and lighting service in the eleven Western states. In 2011, YESCO began to franchise its unique and proprietary business model across the remaining states and internationally. We understood the value of sharing our system with vested and motivated franchisees.
After a thorough investigation into the franchise industry we launched the effort. The growth our the network has been remarkable and the number of franchise owners and outlets continues to grow.
By the end of 2022 we had 59 owners operating in 212 territories. Close to three-quarters of our franchisees have acquired additional territory since their inception which speaks to the success of our proven approach. We invite you to learn more about our service business model and connect with us.