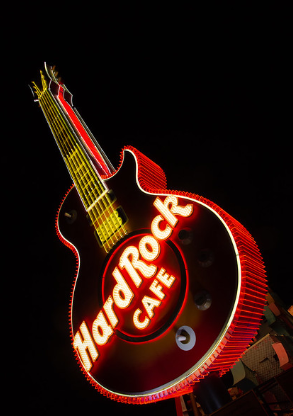 Click Here For Downloadable Photos
YESCO announces the YESCO Conservation Fund, which was established to maintain, repair and improve signs in The Neon Museum's collection. Encompassing $50,000 worth of repair, maintenance and improvement services per year for five years (for a total of $250,000), the fund will help preserve the history and legacy of neon signage in Las Vegas. The fund may be used independently or as a match with donor dollars to support even greater restoration initiatives.
"YESCO designed and created some of Las Vegas' most iconic neon signs, so it is an honor to partner with The Neon Museum and create this fund on the occasion of their 10th anniversary," said Jeff Young, executive vice president, YESCO. "We look forward to bringing more signs back to their original glory."
When The Neon Museum was first established, approximately one-third of its collection, more than 180 signs, were loaned to the Museum by YESCO, its official founding partner. In 2018, The Neon Museum launched a crowd-funding campaign enabling YESCO to restore the iconic 80-foot-tall Hard Rock Café guitar sign. These signs remain on view in the Museum's Boneyard, where visitors from around the world go to learn about Las Vegas' vibrant visual history.
"The Neon Museum is grateful for the generosity of our official founding partner, YESCO," said Aaron Berger, executive director, The Neon Museum. "This significant contribution allows the Museum to expand in new directions while repairing, restoring and re-electrifying more of our city's history."
The YESCO Conservation Fund can be used independently or as a match with donor dollars to allow for even more restoration initiatives.
ABOUT THE NEON MUSEUM Founded in 1996, The Neon Museum is a non-profit 501(c)3 organization dedicated to collecting, preserving, studying, and exhibiting iconic Las Vegas signs for educational, historic, arts and cultural enrichment. Fully accredited by the American Alliance of Museums (AAM), The Neon Museum has been ranked No. 1 in Las Vegas Weekly's list of "Twenty Greatest Attractions in Las Vegas History," Nevada's "Best Museum" by MSN, No. 1 Pop Culture museum and one of the 10 Best Museums in Las Vegas by USA Today's 10best.com, "One of the Top 10 Coolest Things You Didn't Know You Could Do" by Forbes.com, one of the "Top 10 Historic Spots in Las Vegas" by Vegas.com; one of "15 Most Fascinating Museums in the U.S." by VacationIdea.com; and earns a consistent 4.5 out of 5 rating on TripAdvisor. On its 2.27-acre campus, The Neon Museum has an outdoor exhibition space known as the Neon Boneyard; the North Gallery, home to the immersive audiovisual experience "Brilliant! Jackpot" which uses technology to re-illuminate more than 40 non-operational signs; and its visitors' center inside the former La Concha Motel lobby. The museum collection also includes nine restored signs installed as public art in downtown Las Vegas. Public education, outreach, research, and arts conservation represent a selection of the museum's ongoing projects. For more information, including tour schedules and tickets, visit www.neonmuseum.org. Also follow @NeonMuseum on Facebook and Twitter and @theneonmuseumlasvegas