Welcome to YESCO Tulsa Sign and Lighting! YESCO is the Nation's
largest privately owned Sign Company, family-run to this day since 1920
and has built and installed some of the largest and most impressive
displays in the world, including many on the Las Vegas strip, NY Times
Square and Atlantic City, including the iconic roof-mounted Revel Ball.
YESCO Tulsa has had the privilege of servicing our very own Hard Rock
Hotel and Casino!
YESCO Tulsa is YOUR Sign and Lighting Maintenance and Repair
Company! We are leaders in the industry and would like to earn your
business. Below is a list of some of our specialties. Our skilled technicians
are trained to address the sign and lighting needs of your business,
whether they be a fabrication, maintenance, service, or repair.
Reopening your business is tough enough.
It would be our pleasure to assist you in letting your customers know you are open for business and ready to serve them! Click here to learn more about our 90-day deferred payment option!
The YESCO Difference; See What Sets Us Apart From Other
Sign Companies.
Here at YESCO Tulsa, we offer the very best in lighting maintenance and
repair. Many of our customers even choose to enter into a maintenance
agreement, by which we patrol your location each month and promptly take
care of any outages we find, all for a monthly fee. This is a great way to
ensure that your place is always looking its best, to take the maintenance
of its lights completely off of your plate, as well as to plan expenses into the
budget and avoid surprises. Whether you enter into a formal maintenance
agreement with us, or whether you work with our case by case, we are
prepared to work for you to keep your place looking right!
We are the full-service sign solution for all Northeast Oklahoma. We
design, service, maintain, repair, and dispose of signs. YESCO Tulsa is a
true one-stop-shop for all your signage needs.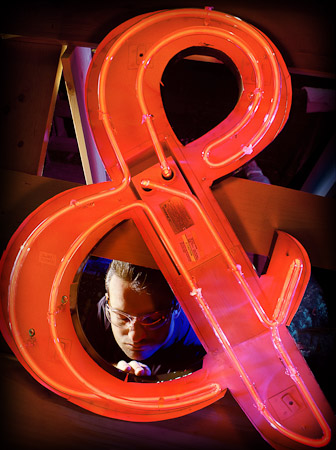 Signs and Sign Maintenance and Repair:

 Business Signs
 Channel Letter Signs
 Neon Signs
 LED Signs
 Electronic/Electric Signs
 Office and Lobby Signs
 Pole Signs
 Pylon Signs
 Monument Signs
 Illuminated Signs
 Non-illuminated Signs
 Custom Signs
 Sign Removal
 Electronic Message Centers
 Wayfinding Signs
 Temporary Banners
 Interior Signs

Lighting Service and Repair:

 Electrical Services
 Parking Lot Lights
 LED Eco-Efficient Lighting
 LED Repair/Retrofit of Existing Signs
 Wall Packs
 Pole Lights
 Parking Garage Fixtures
 Warehouse Lighting
 Building and Soffit Lighting
 Premise Lighting
 Spotlights
 Billboard Lighting
 Interior Lighting
 Canopy Lighting
YESCO Tulsa also provides the following services:

 LED Retrofits:
Businesses looking for energy-efficient solutions will benefit from our
retrofitting neon signs, lamps, and fluorescent bulbs. LEDs last longer and
are more energy-efficient which means savings on the electric bill
Electrical Services:
Our certified on-staff electricians can handle any task and reduce your
downtime as this service can be performed in conjunction with any repair or installation. This keeps our customers from having to source their own
electricians.

 Sign Removal and Disposal:
We help businesses remove and dispose of their signs in environmentally
responsible and safe ways. We always put safety first.

 Sign Removal and Relocation:
The experts of YESCO Tulsa can help with the removal of signage at your
business location or relocating a sign to a different location.

 Sign and Lighting Maintenance Agreements:
Our sign patrol specialists will patrol multiple locations on behalf of your
business, monitor your signs and parking lot lights to ensure your brand is
properly represented. We provide hassle-free maintenance agreements for
your sign and lighting fixtures.

Let YESCO Tulsa take the pressure and confusion of signage related
projects off your hands.