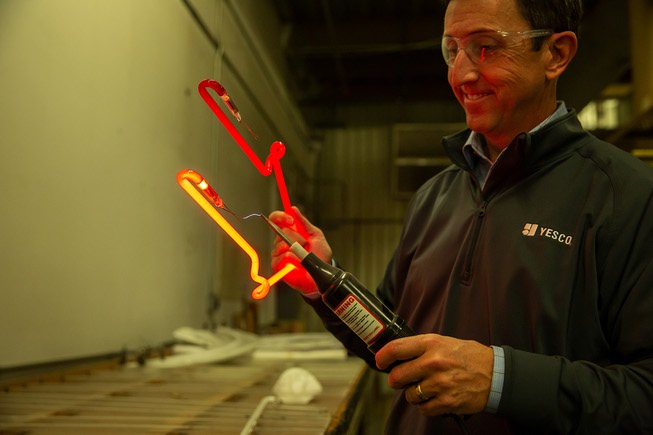 Neon still stokes nostalgia in Las Vegas and beyond despite a dimming future
When Eric Elizondo repairs the Welcome to Fabulous Las Vegas sign on the Strip, he doesn't just keep the city's most beloved icon standing.
He's putting his hands on family history.
Elizondo is a third-generation "neon bender," following in the steps of his late father who was one of the artisans credited with building and installing the sign in the late 1950s.
The elder's specialty was shaping the glass tubes filled with neon gas and electrified to create the evocative glow that bathed the emerging desert oasis. It continues to live strong now despite the dwindling number of neon craftsmen.
Now 65 years old and looking at retirement in about a year, Elizondo is one of only three benders left at Yesco's Vegas shop and among only 10 in the company nationwide — out of almost 1,000 Yesco employees. A few years ago, Yesco had about 30 benders, he said.
"When LED came around we slowed down a little bit but we're still going," he said. "We're still going good."
Read the full article written by Hillary Davis at lasvegassun.com