YESCO Featured on Hello Mayor Program
01.07.21
Happy Holidays
12.14.20
YESCO Presents Historic First Security Bank Sign
12.10.20
Click Here for Downloadable Photos and Video
SALT LAKE CITY (December 9, 2020): On Tuesday, Dec. 8, YESCO celebrated its milestone 100th anniversary year, as well as its decades-long business relationship with the Eccles family, by presenting a historic First Security Bank sign to Lisa Eccles at the David Eccles School of Business at the University of Utah. Also on hand for the presentation of the historic sign were Taylor Randall, dean, David Eccles School of Business at the University of Utah; Jeff Young, senior vice president, YESCO; Paul Young, executive vice president, YESCO; Ryan Young, fourth-generation Young family member and David Eccles School of Business alumnus.
In 1928, YESCO founder Thomas Young, Sr. created the original First Security Bank sign for brothers Marriner and George Eccles, the first leaders of First Security Corporation, then located in Ogden, Utah. Marriner was the first chair and CEO of First Security Corporation, followed by his brother George. Their great niece, Lisa Eccles, is the president & chief operating officer of the George S. and Dolores Doré Eccles Foundation.
The David Eccles School of Business is named for the father of Marriner and George and great-grandfather of Lisa. David Eccles immigrated to Utah from Scotland in 1863 and eventually became Utah's first entrepreneur and one of America's leading industrialists. In his 63 years, David Eccles founded 54 business throughout Utah, Idaho, Wyoming and Oregon. In 1991, Emma Eccles Jones, the last surviving child of David Eccles, recognized her father by naming the University of Utah's business school after him.
Also originally located in Ogden, YESCO was founded by Thomas Young, Sr., on March 20, 1920 as a purveyor of gold-leaf window lettering, hand-painted signs and engraved coffin plates. Today, the company is known for creating some of the most internationally recognizable, large-scale electric signs in the world.
The First Security Bank sign presented on Tuesday adorned the First Security Bank building at 79 South Main Street in Salt Lake City until 2000, when the bank merged with Wells Fargo. It will be permanently displayed at the David Eccles School of Business in the seventh-floor First Security Board Room. The room is a recreation of the original First Security Board Room and is filled with many historical photos and memorabilia.
YESCO Presented Key to the Las Vegas Strip
11.18.20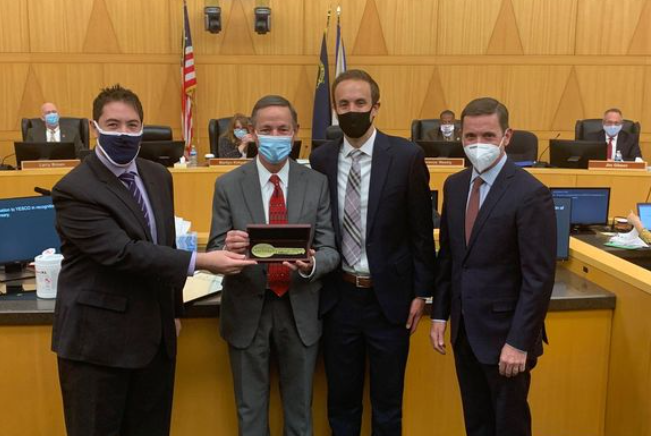 YESCO, the 100-year-old company known for creating, repairing and maintaining internationally recognizable signs, received a key to the Las Vegas Strip in honor of its centennial year and contributions to the Southern Nevada landscape at the November 17, 2020 meeting of the Clark County Commission.
Commissioner Michael Naft presented a proclamation and the ceremonial key to YESCO's President and Chief Executive Officer Michael T. Young, Senior Vice President Jeffrey S. Young and Nathan Young. Mike and Jeff represent the third and Nathan the fourth generation of the Young family, whose patriarch, Thomas Young, Sr., founded the company in Ogden, Utah, in 1920.
"YESCO has employed thousands of Southern Nevada citizens since beginning their operation in Las Vegas in 1932," said Naft. "We are pleased to honor YESCO for '100 years of light' and for their contributions to Clark County and the State of Nevada."
New Sign & Lighting Service Franchise
10.20.20
Welcome to our newest sign and lighting service franchise -- South Dakota East -- located in Brookings, South Dakota.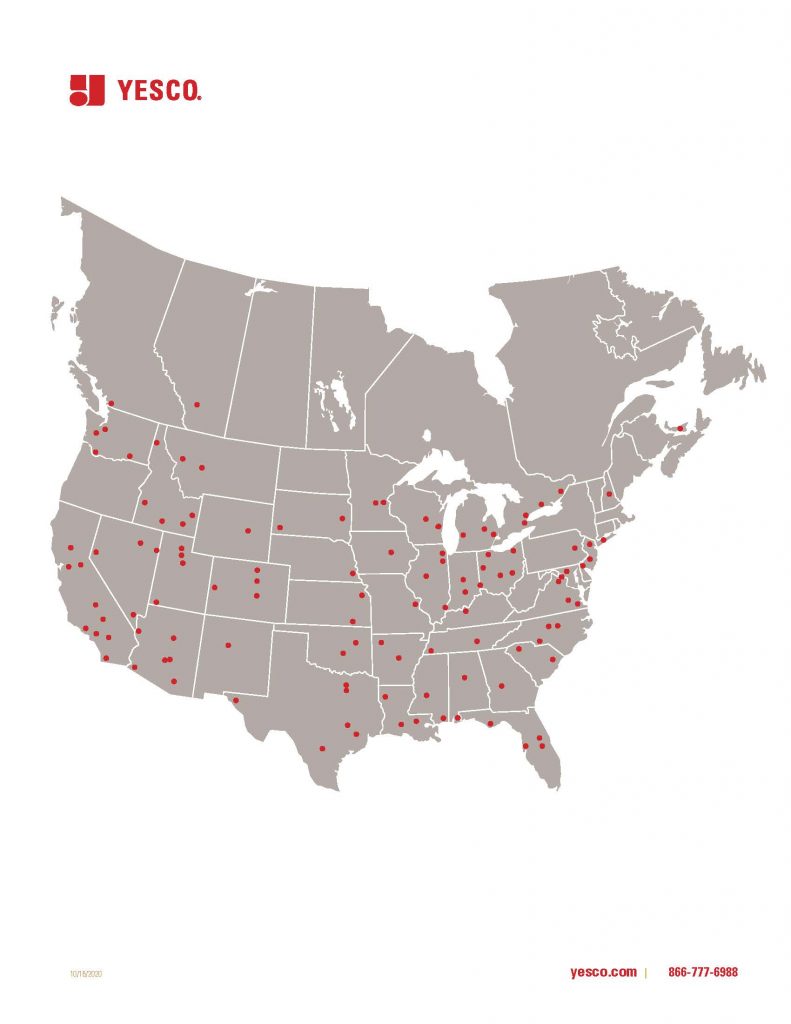 Family Business Magazine Celebration Corner
08.26.20
Celebration Corner: YESCO's 100th anniversary. YESCO, headquartered in Salt Lake City, Utah, produces and services signs, lighting and other display systems. The company has created some of the most memorable signs in America, including the 80-foot-tall Hard Rock Café guitar sign and the Fremont Street Experience in Las Vegas, the sign atop General Motors headquarters in Detroit's Renaissance Center, the Olympic rings for the 2002 Olympic Winter Games in Salt Lake City, Hollywood's El Capitan Theatre sign, the Reno Arch in Reno, Nev., and the sign and fascia that covered the front of Las Vegas' former Stardust casino...
100 Years of Great Customers
08.14.20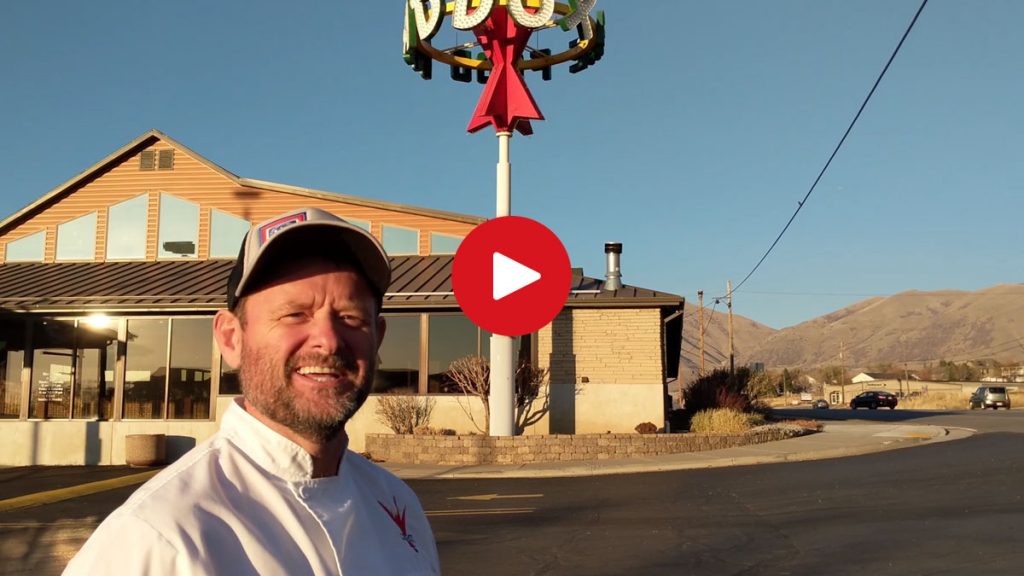 A company does not reach 100 years in business without great customers. From custom signs, to billboards, to sign maintenance and repair we appreciate all of you who have trusted us to build and service your signs.
Utah Business Magazine Recognizes Michael Wardle
07.22.20
Utah Business magazine recently recognized Michael Wardle, YESCO Senior Vice President and General Counsel, for his exceptional service to the company. The first annual Corporate Counsel Award program is designed to recognize in-house counselors who serve within businesses, nonprofit organizations and other private-sector organizations. These attorneys exhibit excellence within their roles, model high ethical standards and have a track record of successful outcomes for their organizations.
Take Out, Pick Up or Drive Thru – Our Goal is to Support You
04.30.20
It's time to rally around our local businesses. They are the lifeblood of a community and add to the diversity and flavor of the neighborhood. Right now small businesses could use your help. So, whether it's take out, pick-up or ordering online – consider those closest to you. Show them how much you appreciate their role in getting the economy back on its feet.
Did you know?
04.16.20
Not only was this Ogden sign created by YESCO, but did you know we were also founded in Ogden Utah?
Share your YESCO stories on our 100 years Facebook page. #YESCO100years