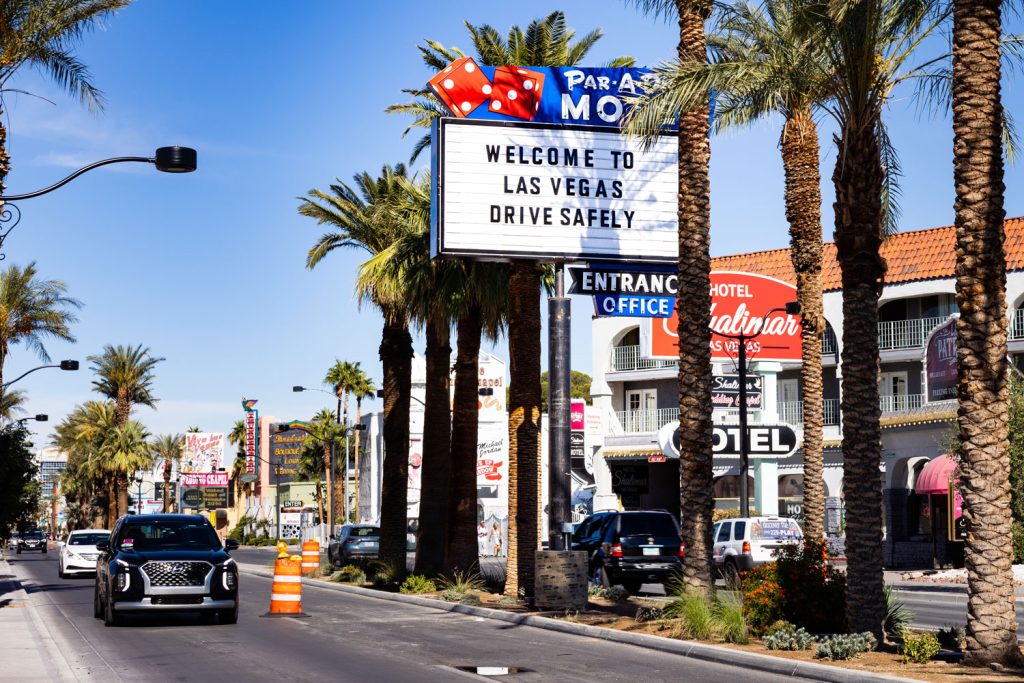 First Of Eight Refurbished, Historic Neon Signs Has Been Installed On Las Vegas Boulevard
Installations Are Part Of The Las Vegas Boulevard Improvement Project
The first of eight refurbished and historic neon signs has been installed as part of the continuing Las Vegas Boulevard Improvement Project. The signs are owned by the city of Las Vegas, The Neon Museum and Young Electric Sign Company (YESCO), and will be installed over the next several months.
The signs will join the existing eight classic neon signs already installed in the Las Vegas Boulevard median from Sahara Avenue to just north of Washington Avenue. The signs celebrate the history of vintage Vegas, beautify a world-famous roadway and create a neon trail to The Neon Museum.
All eight of the neon signs will be officially lit next spring to celebrate the completion of the $125 million Las Vegas Boulevard Improvement project, which also included the additions of the gateway arches and showgirls signage. The eight neon signs were refurbished by YESCO, with funding provided by the Commission for the Las Vegas Centennial.
The Par-A-Dice Motel sign is the first of the new signs to be installed just north of Oakey Boulevard on Las Vegas Boulevard. The sign was originally located at 2217 Fremont St., for a motel that opened its doors in 1953.
The other signs set to be installed on Las Vegas Boulevard in the coming months include:
Apache Motel, 1965, to be installed north of Bridger Avenue;
Golden Inn Motel, 1960, to be installed south of Bridger;
Clark Inn, 1962, to be installed north of Clark Avenue;
Lone Palm Motel, 1954, to be installed north of Garces Avenue;
Domino Motel, 1960s, to be installed north of Hoover Avenue;
Fun City Motel, 1952, to be installed just south of Charleston Boulevard; and
Rummel Motel, 1968, to be installed south of Oakey.
"We are nearing completion of the massive Las Vegas Boulevard Improvement Project, and now we get to add the little touches that make our city so special," Mayor Carolyn G. Goodman said. "These beautifully restored historic signs add to the vintage Vegas vibe in our downtown and provide a connective theme from the fabulous Gateway Arches and our larger-than-life showgirls all the way to the fantastic Neon Museum."
"I am honored and grateful to partner with the city of Las Vegas and YESCO on this project that will preserve these beautiful neon signs – each of which are more than a half century old - for generations to come," said Aaron Berger, executive director of The Neon Museum. "Our goal at The Neon Museum is to make Las Vegas history more accessible, and collaborations like this, that exist beyond the museum's borders, help to achieve that.
Installing these refurbished signs along the iconic Las Vegas Boulevard brilliantly showcases our city's unique history to the millions of visitors we welcome every year."
"In a city known across the globe for its spectacular vintage neon signage, it is an honor to be part of this improvement project," said Jeff Young, executive vice president, YESCO. "YESCO is thrilled with the results of the refurbishment and looks forward to the installation of all eight signs over the next few months."
The newly refurbished signs will join the historic signs on Las Vegas Boulevard already in place that include:
The Horseshoe Casino, 1951, now located just north of Washington;
Silver Slipper Casino, 1950, now located near the Neon Museum at McWilliams Avenue;
Bow and Arrow Motel, 1950s, now located south of McWilliams;
Society Cleaners, 1946, now located just south of U.S. 95/Interstate 515;
Normandie Motel, 1940s, now located just north of Stewart Avenue;
Lucky Cuss Motel, 1955, now located just south of Stewart; and
Hacienda Casino, 1956, now located at Fremont Street.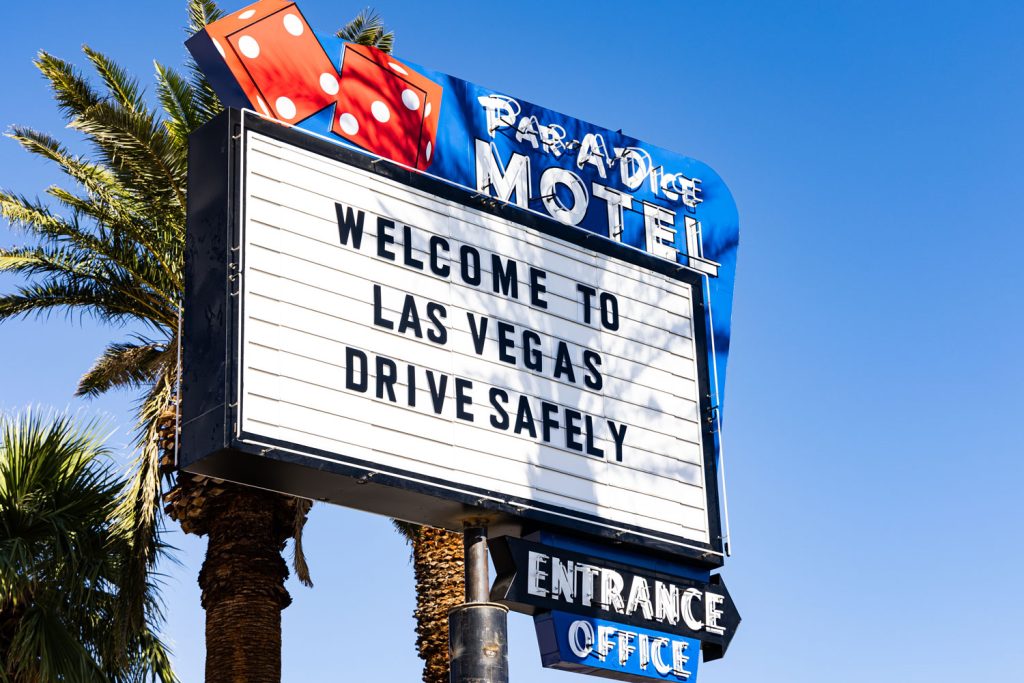 ABOUT THE NEON MUSEUM - Founded in 1996, The Neon Museum is a non-profit 501(c)3 organization dedicated to collecting, preserving, studying, and exhibiting iconic Las Vegas signs for educational, historic, arts and cultural enrichment. Fully accredited by the American Alliance of Museums (AAM), The Neon Museum has been ranked No. 1 in Las Vegas Weekly's list of "Twenty Greatest Attractions in Las Vegas History," Nevada's "Best Museum" by MSN, No. 1 Pop Culture museum and one of the 10 Best Museums in Las Vegas by USA Today's 10best.com, "One of the Top 10 Coolest Things You Didn't Know You Could Do" by Forbes.com, one of the "Top 10 Historic Spots in Las Vegas" by Vegas.com; one of "15 Most Fascinating Museums in the U.S." by VacationIdea.com; and earns a consistent 4.5 out of 5 rating on TripAdvisor. On its 2.27-acre campus, The Neon Museum has an outdoor exhibition space known as the Neon Boneyard; the North Gallery, home to the immersive audiovisual experience "Brilliant! Jackpot" which uses technology to re-illuminate more than 40 non-operational signs; and its visitors' center inside the former La Concha Motel lobby. The museum collection also includes nine restored signs installed as public art in downtown Las Vegas. Public education, outreach, research, and arts conservation represent a selection of the museum's ongoing projects. For more information, including tour schedules and tickets, visit www.neonmuseum.org. Also follow @NeonMuseum on Facebook and Twitter and @theneonmuseumlasvegas on Instagram.
ABOUT YESCO - YESCO specializes in the manufacture of custom electric signs, sign maintenance and out-of-home advertising. In addition, YESCO operates sign and lighting service repair stores throughout North America as well as a sign financing business. Thomas Young founded the company in Ogden, Utah, in 1920 after borrowing $300 from his father. YESCO began by offering wall painted advertisements, gold-leaf window lettering and coffin plates. Today, helmed by the second, third and fourth generations of the founder's family, YESCO creates, services and maintains award-winning displays for some of the most prestigious brands. For more information, go to www.YESCO.com.