Happy Holidays
12.14.20
YESCO Presents Historic First Security Bank Sign
12.10.20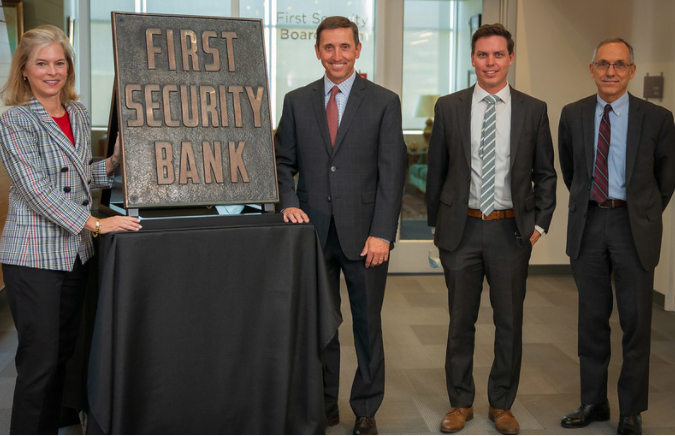 Click Here for Downloadable Photos and Video
SALT LAKE CITY (December 9, 2020): On Tuesday, Dec. 8, YESCO celebrated its milestone 100th anniversary year, as well as its decades-long business relationship with the Eccles family, by presenting a historic First Security Bank sign to Lisa Eccles at the David Eccles School of Business at the University of Utah. Also on hand for the presentation of the historic sign were Taylor Randall, dean, David Eccles School of Business at the University of Utah; Jeff Young, senior vice president, YESCO; Paul Young, executive vice president, YESCO; Ryan Young, fourth-generation Young family member and David Eccles School of Business alumnus.
In 1928, YESCO founder Thomas Young, Sr. created the original First Security Bank sign for brothers Marriner and George Eccles, the first leaders of First Security Corporation, then located in Ogden, Utah. Marriner was the first chair and CEO of First Security Corporation, followed by his brother George. Their great-niece, Lisa Eccles, is the president & chief operating officer of the George S. and Dolores Doré Eccles Foundation.
The David Eccles School of Business is named for the father of Marriner and George and great-grandfather of Lisa. David Eccles immigrated to Utah from Scotland in 1863 and eventually became Utah's first entrepreneur and one of America's leading industrialists. In his 63 years, David Eccles founded 54 businesses throughout Utah, Idaho, Wyoming, and Oregon. In 1991, Emma Eccles Jones, the last surviving child of David Eccles, recognized her father by naming the University of Utah's business school after him.
Also originally located in Ogden, YESCO was founded by Thomas Young, Sr., on March 20, 1920, as a purveyor of gold-leaf window lettering, hand-painted signs, and engraved coffin plates. Today, the company is known for creating some of the most internationally recognizable, large-scale electric signs in the world.
The First Security Bank sign presented on Tuesday adorned the First Security Bank building at 79 South Main Street in Salt Lake City until 2000 when the bank merged with Wells Fargo. It will be permanently displayed at the David Eccles School of Business in the seventh-floor First Security Board Room. The room is a recreation of the original First Security Board Room and is filled with many historical photos and memorabilia.
Ballad of the Neon Cowgirl
12.04.20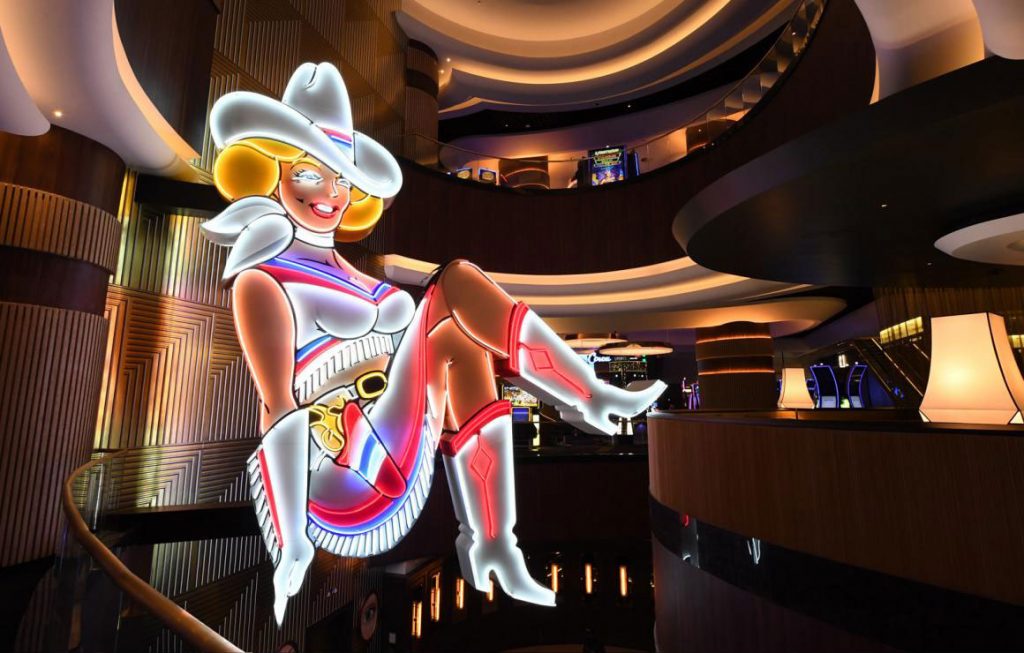 How Vegas Vickie got her groove back (and the dents out) for a return Downtown.
By Ryan Slattery
A LAS VEGAS ICON is back. No, it's not Cher or Celine Dion running out a new production show. This famous female is the old-school type, so she's kicking it in Downtown Las Vegas at the recently opened Circa Resort & Casino. We're talking about Vegas Vickie, one of the most recognizable neon signs in Las Vegas. Designed by electric artist Charles Barnard and first installed in 1980 above the Glitter Gulch façade on Fremont Street, the sign depicts a cowgirl in a form-fitting fringed outfit kicking a leg skyward.
Vegas Vickie immediately became a beloved cheerleader for Downtown's Fremont Street and achieved global fame in 1994 when she married her neon "pardner," Vegas Vic. In 2017, Vegas Vickie was plucked from her perch, packed in a crate, and put in storage when casino owner Derek Stevens began demolition of the surrounding properties in preparation for a new resort. But Stevens didn't want to let one of the city's most famous neon works of art become a museum piece in the city's Neon Boneyard.