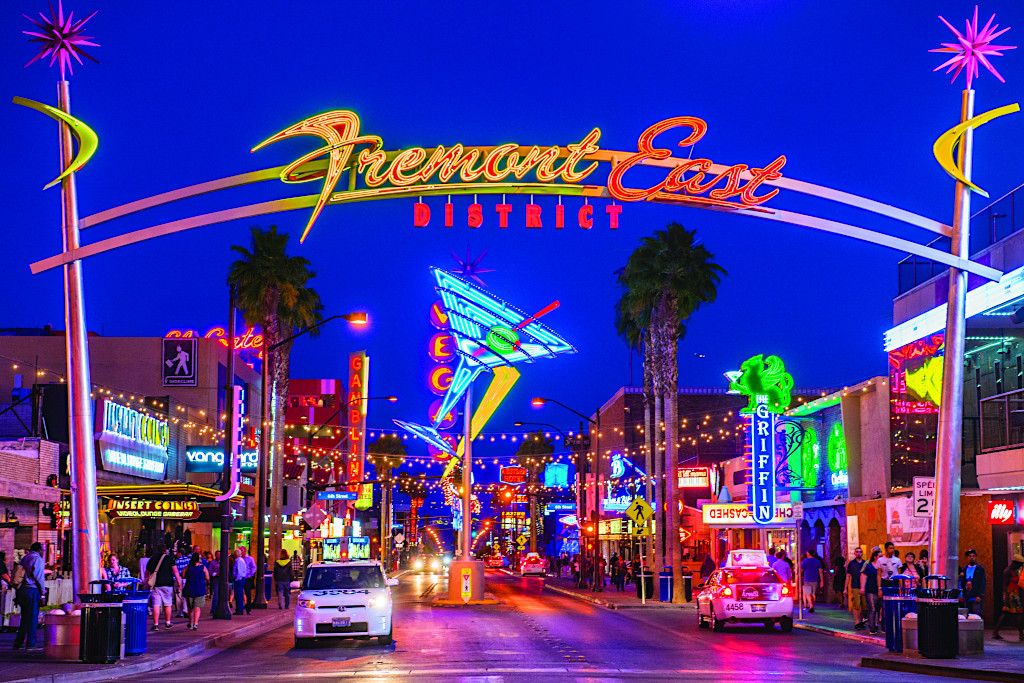 How neon signs became Las Vegas's defining art form and calling card is a transporting tale of transatlantic time travel.
Neon's journey to the Mojave Desert originated in a London laboratory in 1898, when chemists Sir William Ramsay and Morris Travers drew six mysterious gases from thin air.
The "noble" sextet, so termed because they royally resist bonding with other atoms, included an element that the partners named neon after the Greek "neos" for "new."
Neon is odorless and colorless. However, when extracted from liquified air, sealed in a vacuum tube, and zapped with electricity, as French inventor Georges Claude discovered in 1902, this invisible aristocrat glows crimson red. In 1912, he installed the world's first neon sign at a Parisian barbershop.
Radiant enough to penetrate fog, his "liquid fire" cinematically transformed European cities. Neon reached the U.S. in 1923 after American entrepreneur Earle C. Anthony, dazzled by Claude's works in Paris, commissioned two neon-scripted "Packard" displays for his Los Angeles automobile dealership.
As neon fever similarly revolutionized American cityscapes, Thomas Young emerged as the pioneer of the form. In 1910, Young's father moved the family from northern England to Ogden, Utah, to seek a better life. Then 15, Young, who loved drawing and painting, apprenticed as a sign writer.
Enterprising, charismatic, and principled, Young founded his eponymous sign company in 1920 and started out hand-lettering windows in gold leaf and engraving brass coffin plates. Seeing the Packard signs in L.A. changed everything. Renaming his enterprise Young Electric Sign Company, later shortened to YESCO, Young and his growing team started manufacturing, installing, and servicing neon signs across the West. Meanwhile, landmark developments in Southern Nevada put YESCO on the path of destiny...
Read the full article written by Jeff Heilman at passportmagazine.com