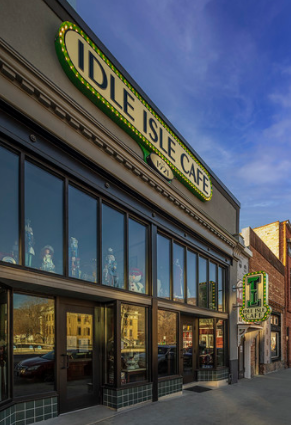 YESCO announces the design, fabrication and installation of a new sign at Idle Isle Cafe in Brigham City, Utah located at 24 South Main Street.
The new signage was designed by Chris Biersdorf from the Salt Lake City YESCO design department and made with a circa-1920s retro feel.
Idle Isle Cafe was established in 1921 and is located in its original building featuring original hand-crafted wooden furnishing, a marble and onyx soda fountain and grandfather clock.
It took approximately 140 man-hours to complete the project.
174 LED light bulbs illuminate the sign.
"We are a proud partner of Idle Isle Cafe," said Ben Olson, account manager, YESCO. "The client is very happy with the vintage-inspired design, and we are pleased the sign will beckon the community to the café for years to come."