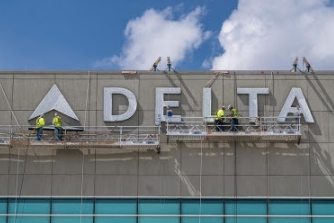 Click Here For Downloadable, High-Res Photos
YESCO recently completed the fabrication and installation of 10 new signs for Delta Center in Salt Lake City – home of the Utah Jazz NBA franchise and more than 320 days of sports and entertainment events each year. As part of the new partnership between the Jazz and Delta Air Lines, which officially kicks off on Saturday, July 1, guests can now view the airline's nostalgic return to the iconic venue.
The project encompassing more than 500 man-hours over a nine-week-long period included the addition of 5,000 white LEDs inside the building's 72 exterior letters and cabinets. Made from aluminum material, the six exterior signs feature the Delta Air Lines colors painted on perforated vinyl. During the day, blue and red colors are visible, and at night, all letters illuminate white. The largest exterior letters are over six feet tall.
As part of the interior signage project, YESCO fabricated and installed four 17-foot-long LED illuminated signs.
Prior to the Delta Center signage project, YESCO also partnered with the airline to provide signage for Delta at the Salt Lake City International Airport. YESCO has also previously collaborated with the Utah Jazz on a variety of sign projects over the years.
"With Jazz games and world-class events held at this arena, the Delta Center signage will have the most TV and media coverage of any other signs in Utah and YESCO is grateful to have been entrusted with manufacturing and installing the Delta Center rebranding project," said Brian Brown, senior account executive, YESCO.