Outdoor Advertising
Why YESCO?
A Better Billboard
When you climb a high mountain, you take an experienced guide to steer you away from pitfalls and assure that you take the right path. Like the peak-savvy guides, we know our craft and can help you on your way to the top. We use an in-depth, data-driven process to determine the best locations and message for a successful campaign.
Campaign Needs & Goals
First, we determine your campaign needs.
What are your goals?
How will you measure the success of the campaign (ROI)?
How would an OOH buy fit into your current marketing plan?
Request a Proposal
Targeted Reach
Next, who are you trying to reach? We'll help you get a lock on the right audience. All of YESCO's inventory is audited by the Traffic Audit Bureau, providing verified impression counts and detailed audience demographic information. This helps us figure out the best advertising location to reach the right people with your campaign.
Request a Proposal
Choose a Market or Location
We'll then help you choose the location that best reaches your target audience.
Choose Your Format
Think all billboards are basically the same thing? Think again. We help you choose the best advertising format to accomplish your campaign goals and objectives.
Static Bulletins
Have a purpose of branding to a specific demographic or to direct traffic to the business for an immediate purchase. This client's advertisement is placed on the chosen location for a fixed period of time. A one-year buy is recommended to build brand awareness through repeated exposures.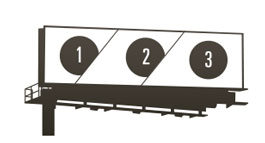 Digital Bulletins
Allows each advertiser to promote multiple messages within their advertising spot. This display rotates between 6 advertisers, displaying each ad for approximately 8 seconds. Due to the flexibility of technology, each advertiser has the option to promote multiple messages within their advertising spot and change their messages frequently to target their specific market. Digital Bulletins are a great way to maximize advertising budget and deliver real-time messages for day-part focusing, events, and short-term offers.
Rotary Bulletins
The advertisement rotates among locations throughout a city or market allowing your advertisement to gain exposure to multiple demographics of people in a community. Businesses that have a broad potential client base rather than a specific target demographic benefit from the rotary program by creating a ubiquitous presence in a market.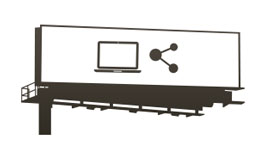 Digital rotary & network programs
Combines benefits of broad market branding with the flexibility of digital. The digital rotary program rotates the series of a client's advertisements amongst a group of digital bulletin units in a particular market, while the digital network rotates amongst multiple locations every 48 seconds.
Request a Proposal
Digital Bulletins
YESCO Active Advertising technology offers innovative opportunities to deliver real-time information along with your creative. Below are just a few options you can choose from.

Time & Temperature

Web Image

HTTP Code

Stock
Conditional HTTP

RSS Feeds

Conditional Image
Countdown
Engaging Creative & Messaging
The success of your campaign all comes down to good creative. And you're in luck, because we know a thing or two about that. Our designers and writers can offer the creativity and knowledge needed to design an ad that is both effective and memorable.