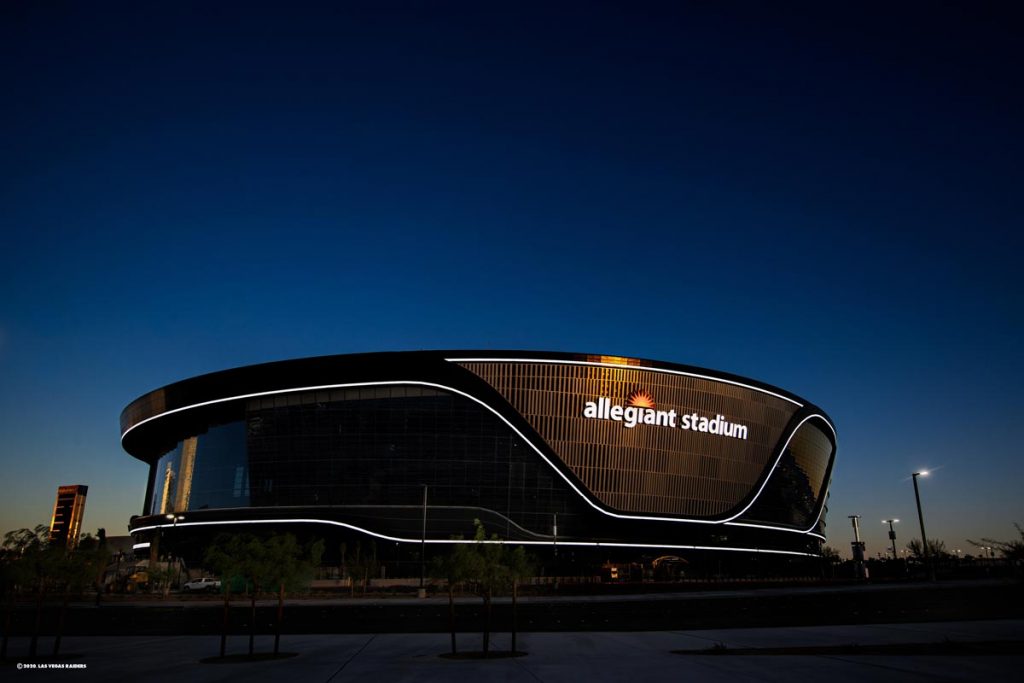 100-year-old company YESCO completes fabrication, installation of nearly 4,000 custom signs at Allegiant Stadium
Las Vegas (September 2020) – YESCO, a renowned company known for creating internationally recognizable signs, completed the fabrication and installation of nearly 4,000 signs at Allegiant Stadium. With a century of sign-making behind them, YESCO brought the Las Vegas Raiders' new home to life with monumental rooftop lettering, exterior light ribbons and more.
"As a proud partner of the Raiders and a valued building partner of Allegiant Stadium, we are pleased to complete such an expansive project," said Jeff Young, senior vice president and chief marketing officer, YESCO. "It's enormously gratifying to be such a visible part of Las Vegas' newest landmark structure."
Encompassing approximately 50,000-man-hours of work, the project included the installation of notable signage such as the two rooftop signs spanning an impressive 564 feet each for a combined total of 115,056 square feet and comprising nearly two miles of outline lighting. Other signs, such as the stadium's freestanding pylon sign, measures 124 feet in height and 44 feet in width, with the electronics portion spanning 80-by-36 feet.
To accentuate the dramatic architecture of the stadium, YESCO installed white light ribbons comprising one-and-a-half total miles of light band. Massive individual illuminated letters reading Allegiant Stadium on the interior and exterior of the facility range from 20 to 31 feet in height. At the Intermountain Healthcare Performance Center in Henderson, YESCO also installed all building and directional signs, including the largest Raiders shields measuring 27-by-25 feet.